Coronavirus COVID-19 Visualization
A web application to allow the general public to explore region-to-region similarity in Coronavirus cases over time, and to see estimates of when a region's case curve may 'bend' and begin to flatten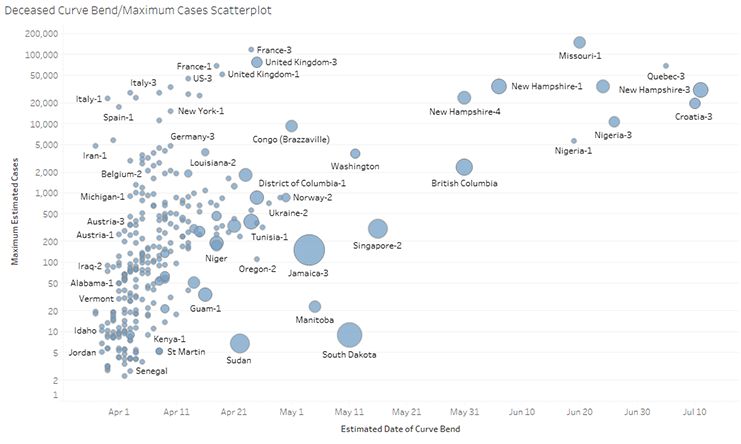 We recently published a visualization dashboard for exploring Coronavirus (COVID-19) case progression. Our dashboard allows viewers to select a target region to see how similar the region's case progressions are to all other regions reporting data. Users can also view estimates of when regions' case curves may 'bend' and begin to flatten. Dynamic time warping Dynamic time warping (DTW) and four parameter logistic regression (4PL) are used to generate our estimates. Standard case progression graphs and worldwide maps of case counts are also provided for additional context.
Social Media Analytics
A web application to estimate and visualize sentiment—an attitude or thought based on emotion—for tweets from Twitter. Each tweet is shown as a circle in an emotional scatterplot, with pleasure on the horizontal axis and arousal on the vertical axis. Other methods of viewing the tweets include topic clusters, a heatmap of tweet counts by sentiment, tag clouds of frequent terms, a timeline of when tweets were posted, and a map of where tweets were posted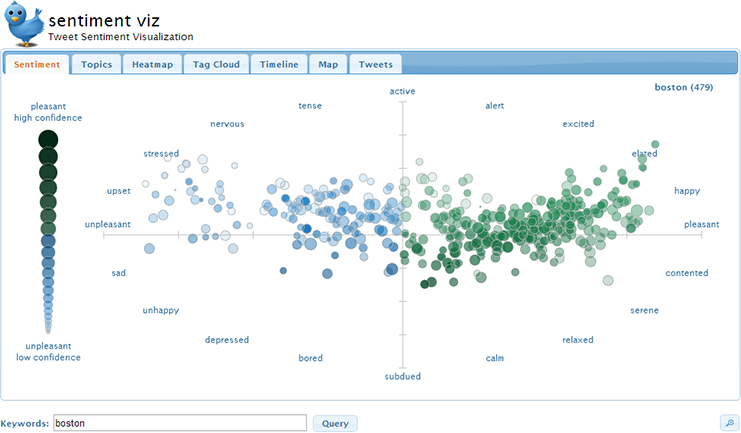 We have recently updated our web application for visualizing tweet sentiment. Recent tweets are requested based on user-chosen keywords. An estimate of each tweet's sentiment is made from its text. The results are visualized in numerous ways: in an emotional scatterplot with horizontal pleasure and vertical arousal axes, clustered by topic, in a heatmap that counts tweets by sentiment bins, as a tag cloud of frequent terms, as a timeline of when tweets were posted, as a map of where tweets were posted, and as a list of tweets and their associated sentiment measurements.
I am investigating visualization techniques that support rapid, accurate, and effective exploration and analysis of large, complex, multivariate datasets. Many of our approaches harness visual perception. This allows much of the analysis to be performed automatically by the low-level visual system. Research in an area of cognitive psychology known as preattentive processing forms the foundation for our perceptual guidelines. A detailed overview of preattentive processing is available for those who are interested.
A full list of publications is available, with links to citation information, abstracts, and PDF for most of the papers. A PDF version of my CV is also available. Some of our recent publications include the following.
If you want to schedule a meeting with me, please check my calendar for availability, then email me so I can confirm the time is still open.
PhD. Kornelia Bastin, Kelvin Cheng Nisan Chhetri, Shailaja Mallick

MS.
A complete list of past students is also available.

CSC 600, Graduate Orientation
F 12:50-1:40&nbsp 1025/1230 EB-II

IAA 501, Introduction to Visualization
Summer 2016, Institute for Advanced Analytics

IAA 502, Text Analytics
Fall 2016, Institute for Advanced Analytics

IAA 502, Visualization Tools
Fall 2016, Institute for Advanced Analytics

IAA 502, Python
Fall 2016, Institute for Advanced Analytics

IAA 502, GIS
Fall 2016, Institute for Advanced Analytics